Embarking on my long-awaited African safari was like stepping into a dream that had lingered on my bucket list for ages!
My excitement knew no bounds as I anticipated this once-in-a-lifetime journey, a chance to witness majestic wildlife in their natural habitat. The remote regions of Tanzania, including Mahale and Katavi, were on our itinerary, promising an unforgettable adventure.
As with every trip, the same ponderous question plagued my thoughts: "What should I pack?" My African odyssey was no exception.
Packing proved to be quite the challenge. I aimed to strike a balance between style, functionality, and comfort, all while keeping my budget intact. After all, I didn't plan to splurge on an entirely new wardrobe!
Additionally, given Tanzania's predominantly Muslim and conservative culture, I needed to steer clear of revealing attire.
My luck turned when I discovered an array of delightful safari fashion choices at local boutiques just before my trip. This allowed me to journey in style, particularly through the elegant simplicity of dresses—an evergreen choice that seldom disappoints!
Disclaimer: Feel free to skip ahead if you're not interested in tips on how to safari with flair!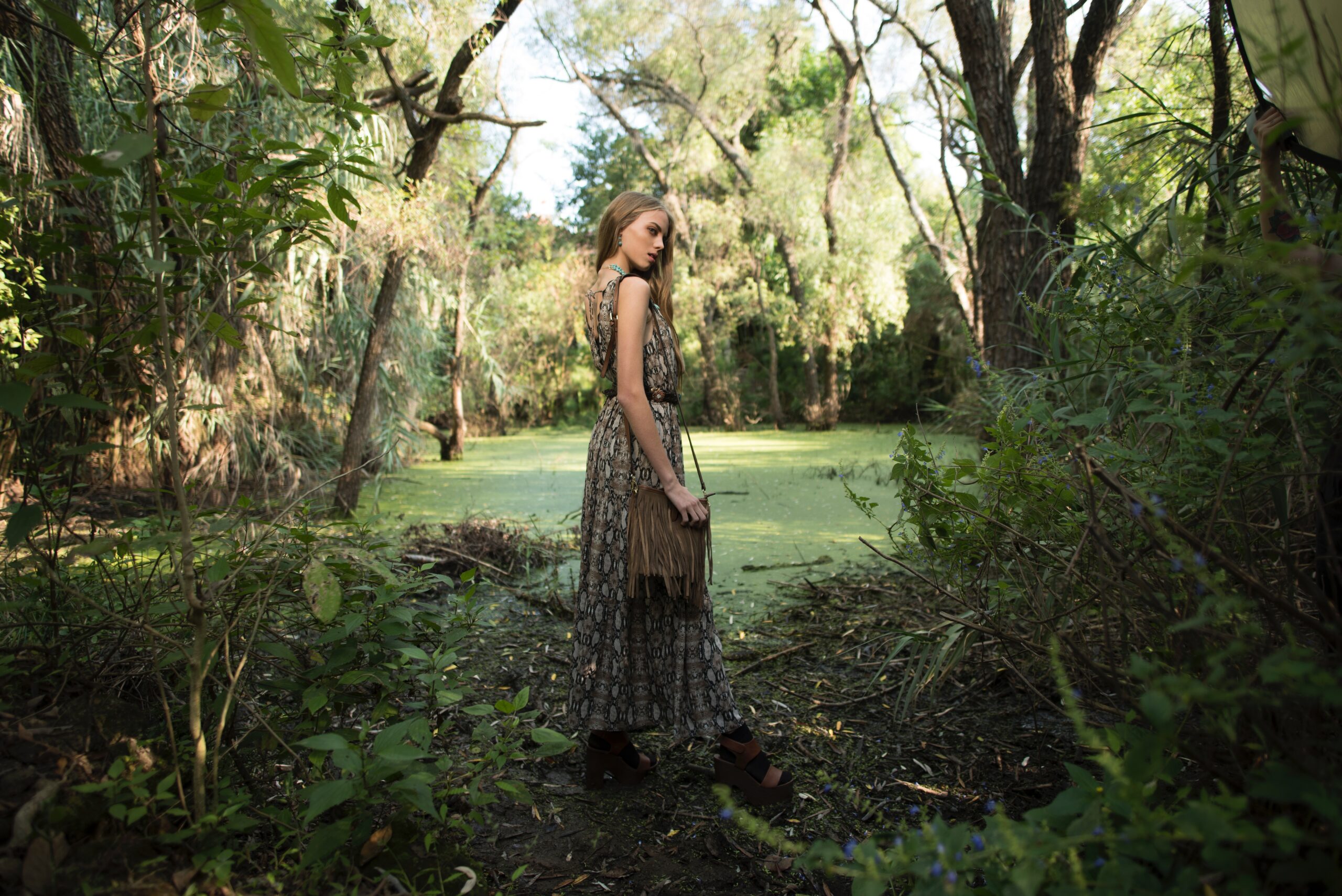 African Safari Outfit Inspiration: What to Wear on Safari
In a nutshell, here's your safari fashion guide:
Opt for earthy, neutral hues like beige, tan, or khaki.
Steer clear of vibrant reds (they may startle the animals) and blues or blacks (known to attract Tse-Tse flies).
Say no to attention-grabbing patterns like leopard or camouflage.
Embrace natural fabrics such as cotton and linen for breathability.
Layer up: A lightweight jacket or a versatile scarf can be a lifesaver during early game drives and night safaris.
And, an essential reminder: Pack light—your luggage must not exceed 15kg!
So there you have it—advice on how to safari with style and grace, ensuring both your comfort and respect for the environment.
1. Shirt Dress + Ankle Boots When I stumbled upon this dress at the store, I knew it was a must-pack for my Tanzanian safari. Wearing it made me feel like Meryl Streep in 'Out of Africa,' even though Robert Redford wasn't part of the picture this time. I paired it with comfy ankle boots from Karma of Charme, an Italian brand I discovered in Ibiza. While the boots were super comfortable, I have to admit that, most of the time, I opted to go barefoot during our jeep excursions.
2. Out of Africa Safari Outfit: Khaki Dress + Safari Hat This linen khaki dress quickly became one of my go-to outfits during the trip. Its breathable fabric was perfect for combating the scorching temperatures, and I topped it off with a safari-style hat borrowed from my friend Layla.
3. Safari Style Khaki Dress Believe it or not, seeing me in pants is a rare sight! However, during our time in Mahale, I decided to don them. We embarked on two relatively easy treks to observe chimpanzees in the wild, and pants were undoubtedly the smart choice. On the first day, I matched my joggers with a white blouse, and on the second day, I opted for a white top paired with a functional shirt featuring convenient pockets. This type of shirt proved invaluable when switching camera lenses!
4. Safari Outfit Style: Jumpsuit + Converse If maxi dresses aren't your thing but you still want to safari in style, consider a loose jumpsuit. I chose a golden jumpsuit and paired it with white sneakers for an early morning game drive.
5. What To Wear On Safari: White Dress + Straw Hat Ahead of the trip, I'd heard that safaris could get quite dusty. However, we also had free time between animal encounters. So, I decided to pack one of my favorite white dresses and my trusty straw hat. These turned out to be perfect for relaxing moments at the lodge, and surprisingly, I ended up wearing them on a game drive in Katavi, where dust was not a concern at all!
6. Safari Outfit Style: Flowy Dress + Sandals In addition to the white dress, I brought along a flowing maxi dress for those leisurely moments at the lodges. For me, it's the epitome of comfort, and it photographs beautifully during sunset sessions!
7. Safari Style Swimsuit + Flip Flops If your lodge has a pool (many do), consider taking a dip to cool off between game drives. You can also mix and match your swimsuit with your safari pants for a versatile look.
8. Safari Camera Bag I've been a devoted fan of Gatta Bag for over a year now, and my Lola bag still looks brand new. During this trip, it comfortably held my mirrorless camera, three different zoom lenses, my iPhone 8plus, and a large battery pack, with room to spare!
9. Duffel Bag Remember, you'll need to fit all your outfits into one duffel or soft shell bag. Double-check your airline's baggage allowance, as they typically allow a maximum of 15-20kg.
10. Sunglasses Don't forget to pack your shades! Aviators or stylish faux Carey sunglasses are excellent choices.
11. Mosquito Repellent Bracelets My friend Layla came prepared with mosquito repellent bracelets for the entire group, and they actually worked! Some of them were quite stylish and lasted for around two weeks. I'm still wearing mine because it looks good and serves as a wonderful reminder of our unforgettable trip.
Have a look at our shop @ Safari style guide