Imagine having a dress as comfortable as your favorite tracksuit or a skirt that rivals the ease of wearing shorts. Believe it or not, it's possible! Athletic dresses and skirts are the perfect marriage of comfort and style, and we're here to guide you on how to incorporate them into your everyday wardrobe for both trendiness and comfort!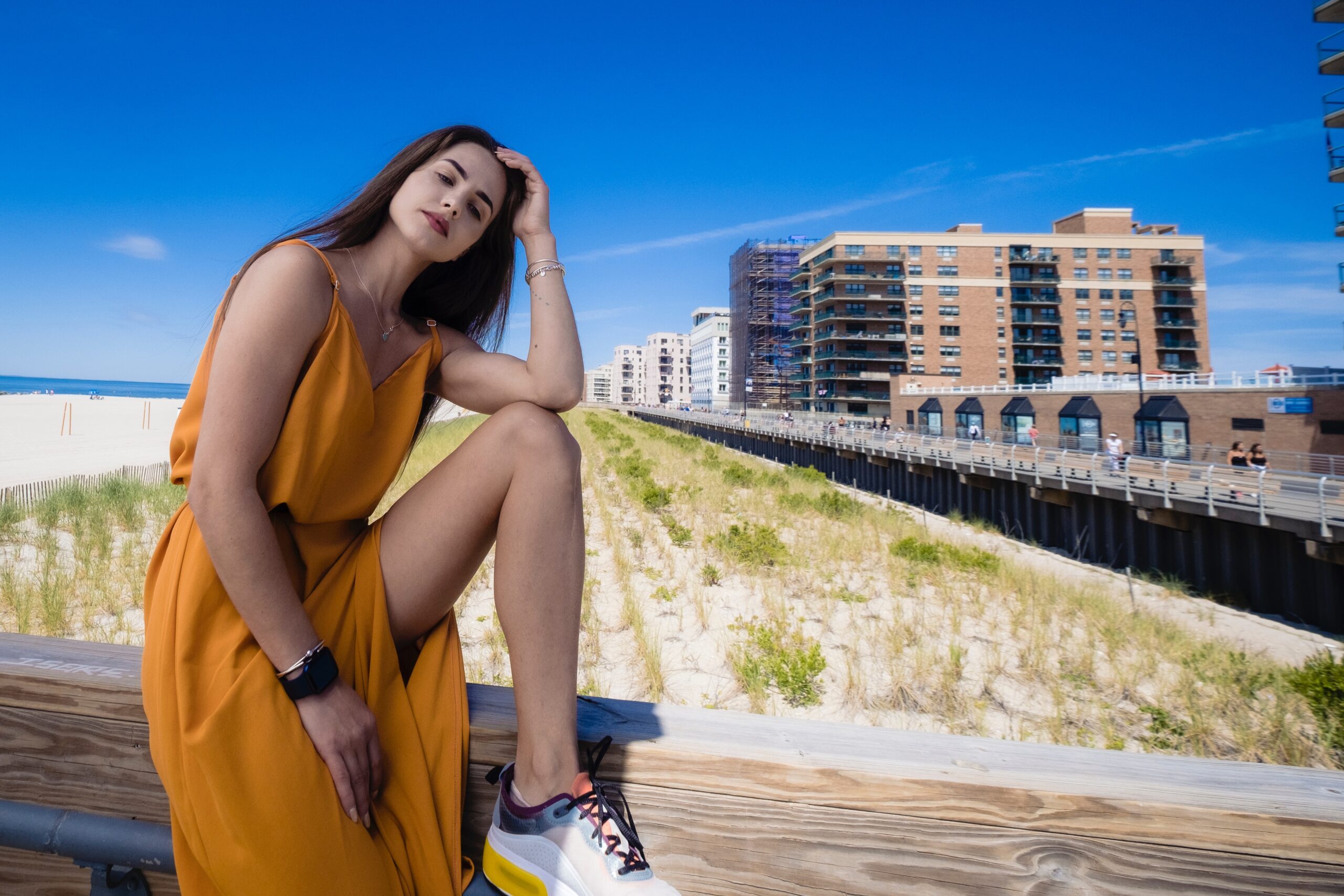 Athletic Dresses: From Tennis Courts to City Streets
This fashion sensation made its debut at Wimbledon back in the 1920s, causing quite a stir. Fast forward to today, and it has become an absolute sensation in women's fashion, earning its place as a staple of urban style. Athletic dresses offer a convenient sartorial solution for every woman who values simplicity and comfort.
The prototype for this trendsetting garment was designed by Jean Patou for Suzanne Leglen, a French tennis player. It marked a groundbreaking moment in fashion history as the first time a player graced the court wearing a dress that revealed her knees. This revolutionary design paved the way for women's clothing made from elastic, comfortable fabrics. Today, athletic dresses and skirts are adored not only by athletes but also by enthusiasts of athleisure style, celebrities, and fashion designers alike. They regularly grace the runways of top fashion houses and are frequently featured in the wardrobes of contemporary style icons like Hailey Bieber, Rihanna, and Emily Ratajkowski.
Trendy Sports Dresses: A Must-Have in Your Wardrobe
Not sure which sports dress to choose? Consider opting for a longer, oversized sweatshirt dress. It offers comfort for hours on end and adds a touch of urban cool to your ensemble. Sweatshirt dresses are a definite hit and can be styled in numerous ways. If you want to accentuate your figure, a 4F athletic pencil dress is the way to go. Crafted from ribbed cotton fabric, these dresses are not only ultra-feminine but also incredibly comfortable. Furthermore, they seamlessly transition from day to night, making them perfect for outings with friends or romantic dates—all you need to do is switch up your accessories.
For summertime, cotton sports dresses are an excellent choice! On scorching days, go for light, pastel-colored options, or opt for strappy or cut-out styles. They make a fantastic alternative to shorts and a shirt and are ideal for packing on vacation or wearing while enjoying summer in the city. So, what should you pair them with?
What to Wear with a Sports Dress: Key Tips
A sports dress pairs beautifully with almost any outerwear, from a classic denim jacket to a chic tailored coat. In the autumn, you can team it with a short leather jacket, and in the winter, it's a great match with a cozy puffer jacket or a warm wool coat. During the summer, throw on an oversized linen shirt to protect your shoulders from the sun while adding an extra layer of comfort. Of course, a sports dress looks just as fantastic on its own—simply add shoes and a bag, and you're ready to conquer the day.
Which Shoes to Wear with a Sports Dress: Perfect Pairings
When it comes to footwear, the answer is simple: go sporty! A sweatshirt dress pairs wonderfully with trendy sneakers, trainers, or ankle-length sneakers. As autumn rolls in, consider matching a knitted dress with boots, particularly those with a substantial sole or biker boots for a rock star-inspired look. Some fashion-forward individuals even elevate their sports dresses by pairing them with high-heeled boots and, for evening occasions, stilettos or high-heeled sandals. This intriguing contrast is the go-to choice for those who love merging style and comfort. In the summertime, you can't go wrong with a winning combo: a short-sleeved sports dress and sandals. Sporty sandals and fashionable chunky sandals will be the perfect fit.
Get Ready to Elevate Your Comfort and Style
Athletic dresses and skirts offer the best of both worlds: unbeatable comfort and contemporary style. Incorporate these trendy pieces into your wardrobe and discover how to effortlessly balance fashion and comfort, no matter the occasion!
Elevate your sports dress with the right accessories to ensure your outfit always looks polished and put together. For casual occasions, opt for accessories that match the dress's style, such as a baseball hat, a trendy bucket hat, a stylish bum bag, or an urban backpack. A spacious shopper bag is another excellent choice to pair with a sports dress. When transforming your look into an evening ensemble, pair your sports dress with stilettos and a sleek clutch bag. And don't forget to add some jewelry! Minimalistic pieces like a delicate golden chain or small hoop earrings are perfect complements to a sports dress.
Trendy Outfits with a Sports Dress: Ready in 5 Minutes
In search of pre-styled outfit ideas featuring a sports dress? We've got you covered! These tried-and-true combinations can be effortlessly recreated to keep you looking trendy and feeling comfortable:
4F Longer Sweatshirt Dress: Create a fantastic urban outfit by pairing it with an oversized short leather jacket and chunky boots. Top off this look with a shopper bag and a baseball hat.
4F Pencil Sports Dress: Perfect for a night out with friends, pair it with ankle-length sneakers and an oversized blazer for an effortlessly chic vibe.
4F Strappy Sports Dress: Craft a stylish summer ensemble by matching it with slides, a bum bag, and a bucket hat—an ideal choice for a sunny day stroll in the city.
How to Rock Sports Skirts: The Trendiest Casual Styles
Sports skirts offer an excellent alternative to sports dresses, boasting equal versatility and comfort. Just like dresses, sports skirts can be effortlessly paired with a wide range of outerwear and footwear options. Pleated tennis skirts pair beautifully with lightweight mesh sneakers or classic white trainers. Knitted tracksuit skirts seamlessly match chunky sneakers, ankle-length trainers, and boots or sandals with a thick sole. Now, what to wear on top?
A polo shirt complements a sports skirt perfectly, creating a sporty-chic look. Alternatively, you can opt for a T-shirt or a fitted long-sleeve shirt. In the summertime, trendy tops and crop tops make excellent choices, especially when paired with a sports skirt—they create the perfect ensemble for hot days. Accessories add the finishing touch to outfits with sports skirts. Shield yourself from the sun with a baseball hat or a stylish bucket hat. A backpack is a practical companion for cycling trips or city walks. And when autumn and winter arrive, stay warm and stylish with a cozy sweatshirt and a soft beanie.
Explore the range of sports dresses and skirts available from 4F to effortlessly blend comfort and style into your wardrobe.
Have a look at our shop @ Comfortable athletic dresses