Spring has finally arrived, bringing milder temperatures, longer days, and a much-needed boost in mood. As we bid adieu to our cherished loungewear after a long winter, the thought of transitioning back to jeans and suit pants may not be too appealing. Or does it have to be that way?
We believe it's far too hard to part with our beloved sweatpants and similar comfy attire. That's why, in collaboration with the fashion-savvy Nadine Banks, we've put together a style guide to show you how to rock your new favorite pants in various ways. Because, in our book, sporty and elegant can blend seamlessly!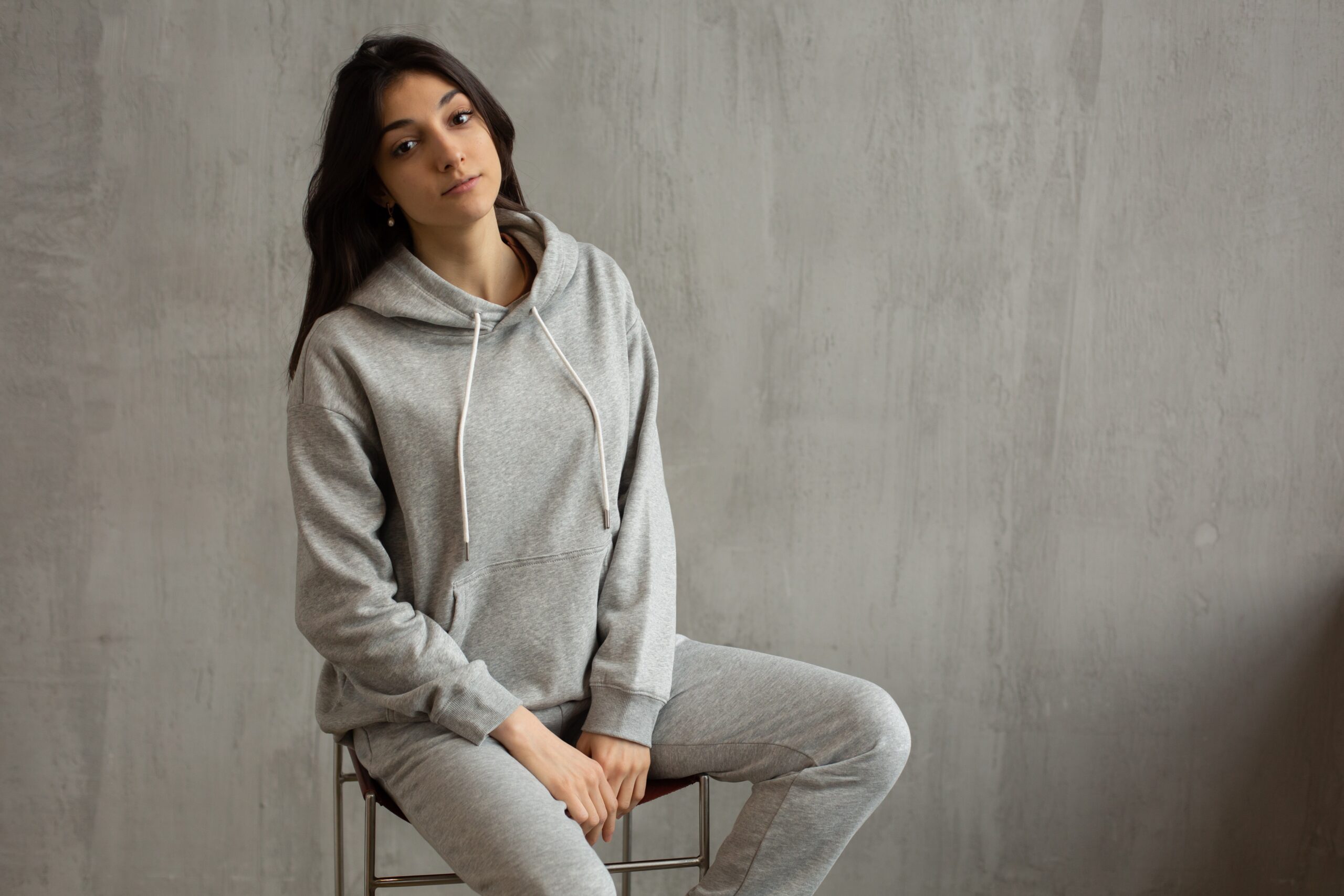 1. Smart Style: Sweatpants + Oxford Shirt for the Home Office
Even though we dream of spending the day outdoors with friends as the temperatures rise, the reality often keeps us at our desks for our 9-to-5 routine, always ready for a surprise Zoom meeting. And what's the perfect outfit for this situation? It's undoubtedly the combination of The Oversized Oxford Shirt and The Boyfriend Sweatpants.
The airy blouse can be worn either snug or casually oversized, ensuring a polished look in both styles. To maximize comfort during home office hours, the sweatpants are crafted from combed organic cotton, a process that imparts them with exceptional softness. They're an absolute must-have for a productive day working from home.
2. Cozy Comfort: The Sweatshirt + Sweatpants Duo
April is a month of fluctuating weather, and it's not uncommon to find yourself spending a rainy Sunday on the couch. But we're not complaining, because with Netflix, a cup of tea, and the perfect lounging ensemble, you can truly relax at home. Nadine Banks suggests a combination of gray sweatpants paired with our black Boyfriend Sweatshirt for her comfort day. Cozy socks are the finishing touch to this snug look. Both essentials are crafted from our special French Terry fabric, designed for comfort, breathability, and warmth all at once. The elastic waistband in the sweatpants provides extra freedom of movement and comfort.
Here's a tip for extra coziness: consider buying the sweatshirt one or two sizes larger. It's almost like being wrapped in a soft, comforting blanket.
3. Casual Vibes: Elevate the Look with an Oversized Blazer
The casual style isn't confined to the home office or couch. If you need to run a quick errand during your lunch break or take a trip to the supermarket, simply throw a light jacket over The Boyfriend Hoodie. A wool blazer pairs wonderfully with the sporty hoodie, adding a touch of class without feeling overly formal. For an even more relaxed look, a denim jacket or blouson can do the trick.
We recommend slipping into sneakers, such as retro white or black chucks, to complete the sporty outfit. Our hoodie, made of diagonal loopback fabric, excels in thermoregulation and keeps you warm even in cooler temperatures. For added assurance, consider layering The Boyfriend T-Shirt under the hoodie and jacket; it provides extra insulation and looks effortlessly cool.
4. Casual Chic: Elevating Sweatpants for Everyday Wear
The days spent at home during lockdown have transformed sweatpants into an essential fashion piece in our wardrobes. Even as the first hints of sunshine tempt us outside, we're not eager to part with our trusty companion. But how can you make sweatpants look stylish?
Since the advent of gyms, the "athleisure" style, a fusion of athletic and leisure wear, has made its mark in the fashion world. It's all about wearing your sportswear in your daily life. Pair your sweatpants with a neutral-toned T-shirt, trendy sneakers, and some stylish shades, and you instantly up the style quotient. Add a few gold or silver necklaces and an oversized blazer to elevate the look. On cooler days, a classic trench coat completes the ensemble with elegance. This way, you can comfortably welcome the first days of spring while staying fashion-forward.
As you can see, there are myriad chic ways to incorporate sweatpants into your daily life. An extra tip to expand your styling possibilities with these cozy essentials is to opt for muted colors like white, gray, and black when selecting your attire. This ensures that all pieces effortlessly complement one another, allowing for fresh combinations every day.
Have a look at our shop @ Stylish Sweatpants Outfit Ideas